Bummel comes from German and means 'to stroll'
We are a family business making genuine leather shoes and leather goods since 1990 in George, South Africa. We manufacture footwear for the whole family. Bummel Shoes was launched in November 2018. They are handmade in the stitch-down construction where no synthetic materials touch your feet. Our shoes are comfortable with the focus on quality materials and real artisan craftsmanship that will serve you well for years to come. 
Why 100% leather?
It's the best. It's breathable. It doesn't smell. It's comfortable, and above all it's quality. 
We use the best veg tan leather insole - the backbone of the shoe. 80% of the foot sweat gets absorbed by the insole (if it's leather). That's why we use the best. We use the finest upper leather which moulds itself to take on the shape of your foot. It's breathable and your feet will happily feel the difference. We use a leather lining to cover our toe puffs to prevent your feet from sticking to a synthetic material. That's why we make a leather upper, a leather lining, a leather insole where no synthetic touches your feet. 
We aim to make a product that stands above the rest.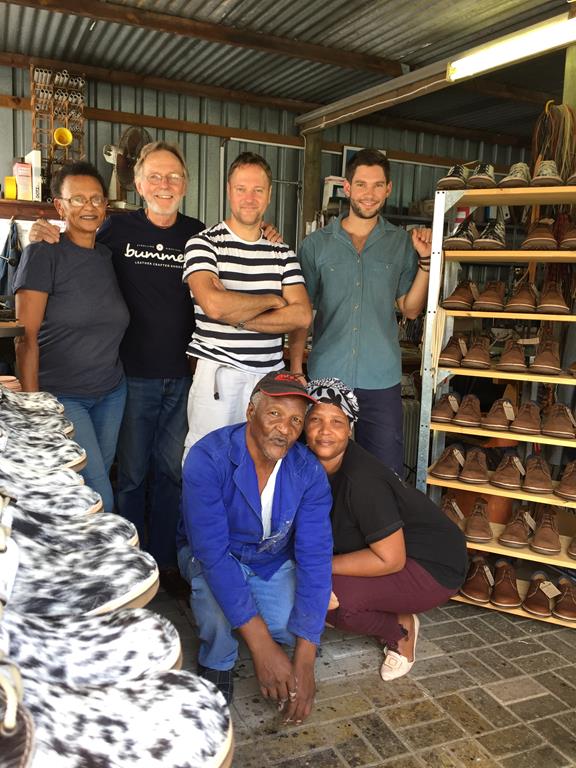 About Bummel founder & designer Michael Stumpfe
I have a passion to make beautiful quality leather shoes. The German in me is passionate about quality. I studied shoe design in Germany for 5 years, including an apprenticeship where I learnt to work every machine. I then worked for 8 years in the design department at  Kennel and Schmenger in Pirmasens, Germany. After I returned to South Africa I worked as a designer at Watsons Shoes in Great Brak near George for 8 years making men's, woman's and children's shoes.
My dad, Rolf, has been designing and making shoes for the last 40 years. It has been a privilege to start this adventure with him at my side. 
In 2018 I decided to live out my dream and work with my father and start my own business making high quality, attention-to-detail leather shoes with leather insole, leather upper, and leather lining - Bummel Shoes. Since then my dad retired and we started expanding our distribution network including opening a new shop at the prestige Rosebank Mall in Johannesburg in July 2021 - a major step for our small business.
We have a small team of handpicked people who have embraced our quality and standard of producing shoes. After 21 years of working in this field, together with my dad's experience, we've gained valuable knowledge and skills which are of great value to our business.
I hope you'll enjoy your Bummel Shoes as much as my team and I enjoy making them.
Go strollin'
Michael 
Where it all began....
 Crafted by Hand...
"These Shoes are made for strolling" - Click to read!